Why medicines Associated with a Risk of Depression Are Widely Used?
Major depression is a common mood disorder that is estimated to have afflicted more than 16 million adults in the U.S. in 2019. Importantly, the drugs in your medicine cabinet may be one cause of depression symptoms, including suicidal thoughts or behavior. If so, the remedy might be, in consultation with your doctor, to stop the drug causing depression rather than starting an antidepressant to treat this drug-induced disease.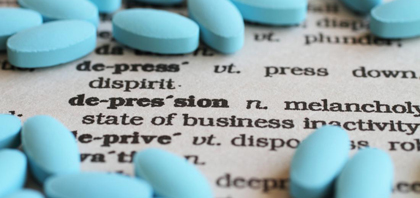 A well-designed study recently published in the Journal of the American Medical Association showed that use of medications that have depression as a potential adverse effect is very common. Moreover, when patients use more than one of these medications at the same time, their risk of having depression symptoms increases significantly.
Most commonly used drugs linked to depression
To estimate how often U.S. adults use prescription drugs with depression as a potential adverse effect, researchers analyzed data collected from more than 26,000 adults age 18 or older who participated in the U.S. National Center for Health Statistics National Health and Nutrition Examination Surveys.
The survey questions completed by the participants included standardized questions about depression symptoms experienced during the previous two weeks. Such questions are routinely used for diagnosing depression. Information on use of prescription medications also was collected during in-person interviews at the participants homes. The participants were asked to show the interviewers containers for all prescription medications taken during the prior 30 days.
Based on survey data from 2014 to 2018, the researchers estimated that more than one-third of U.S. adults used at least one drug that has depression as a potential common or serious adverse effect. Factors associated with use of such drugs included age greater than 64, female sex, widowed marital status and a higher number of chronic medical conditions. Overall, an estimated 8 percent of adults reported depression over the entire study period.
The most commonly used class of drugs that have depression as a potential adverse effect was antidepressants. In 2017-2018, an estimated 15 percent of adults used one or more antidepressants, up from 11 percent of adults in 2015-2016.
The list of the most commonly used drugs that have depression as a potential common or serious adverse effect also included allergy/asthma drugs, analgesics, antihypertensives (drugs for treating high blood pressure), corticosteroids (also known as glucocorticoids), gastrointestinal drugs that suppress stomach acid, hormones/hormone modifiers, sedatives/insomnia drugs and seizure drugs.
In an analysis that excluded people who were currently using antidepressants, the researchers found that as the number of concurrently used medications with depression as an adverse effect increased, the proportion of those who met criteria for depression during the prior two weeks on the survey increased. Among people not using any such drugs, 5 percent had depression symptoms. Among those using one, two, or three or more such drugs, the proportions with depression symptoms were 7, 10 and 15 percent, respectively. A similar analysis that looked at number of concurrently used drugs not having depression as an adverse effect found no such association with depression symptoms.
When starting a new medication that is known to have depression as an adverse effect, you should always be vigilant about this risk. If you develop symptoms of depression, including suicidal thoughts, while taking any such medication, consult your doctor. Your evaluation should include an assessment of whether your symptoms may be related to any medications that you are taking currently. Do not stop taking any medication without talking to your health care professional first.