Few More Depression Symptoms
There are also some symptoms besides mental and physical Depression Symptoms which could be visible among the depressed patients. These symptoms also need to address properly as these could be harmful for the depressed patients. Here are the following: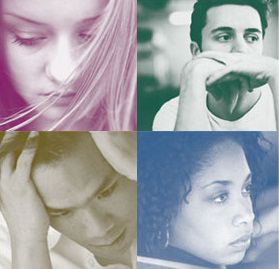 Deterioration of Social Relationship: Every person is surrounded by family, relative, friends, and society. These surrounds helps the person to stay lively. People can share their own feelings, emotion, and grief with their friends and family. People also can get help or company during their different difficult stages of life. Even in worst situation they can depend on their family. But depressed people become isolated from this network of family and society. Loss of interest, boredom, loneliness makes him/her to become unsocial. As a result the people in depressive disorder become isolated and destroy the social relationship. Though it is not a severe symptom but sometimes people get severely depressed due to this symptom.
Increased Use of Intoxicants and Drugs: Many people could not bear the difficulties of life such as marital problem, study break and become dependent on the drugs and other intoxicants. They become very depressed and try to find their solution in the drugs. But the depressed people do not realize the harmful side of having intoxicants and drugs. So if you also increase the use of these harmful habits then try to avoid this. There are other more treatment, treatment centers and doctors to help you to get rid of mental problems. Dear reader if you are taking too much alcohol or drugs then try to reduce your use of drugs and other intoxicants.
Irritability: feeling irritation or become irritate in every single matter is the common sign of depression. Irritation towards people, toward work study is all the example of depression. Irritation ranges to high stage when the depressed people keep themselves isolated from the outer world, as they are suffering from depressive illness.
Hostility: Hostility can be a minor symptom of depression but its effect is not always minimal. Some people are naturally hostile but some people have cheerful and helpful mind they are very friendly by nature. But due to depressive disorder their friendly behavior changed in a massive way. They could not bear the welfare of the other people, they react differently. It is happen when they become depressed due to some difficulties. Hostile attitude of any person also may refer that, it is a symptom of depressive illness.
Constipation: May be you become surprise to hear that constipation also could be a sign of depression. Yes, some cases constipation not only occurs for physical illness but also occur for depressive disorder. Constipation is related to appetite. As depression lead appetite changes so it also leads constipation. So if you are experiencing appetite change then try to sort out your appetite problem in order to get rid of constipation problem.
Loss of self Esteem: Self Esteem or self respect is that way which can makes a person strong and helps to build his/her improved career. So in order to live with respect, self respect is very much important. Moreover self respect helps him/her to become successful in the life. But the people who are in depression sometimes losses their self esteem and cannot get any success in career. Because self respect or self esteem is the key of self development. Though all depressed people do not lose their self esteem but now a day's lack of self esteem is becoming heavy on the depressed people. That's why loss of self respect is also a symptom of depression. Generally depressed people think that they do not have any quality, regarding intelligence, inner beauty or outer beauty, they are not able to compete with other successful people or beautiful or handsome people. But these feelings do not usually transformed in the major order. Moreover loss of self esteem can easily solved by general counseling.