Many types of antidepressant medications are available, including those below. Discuss possible major side effects with your doctor or pharmacist.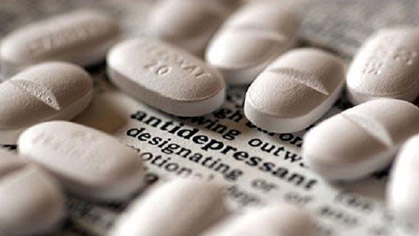 List of Top Antidepressants
What Medications Help Treat Depression? Read the full list of the types of antidepressants, their side effects, and drug interactions. Antidepressants (depression medications) most commonly are used to treat depression. Types of antidepressants are SSRIs, SNRIs, TCAs, and MAOIs. The drugs contained in this list improve symptoms of depression by increasing brain chemicals called neurotransmitters, which are thought to affect emotions.
The first rating is efficacy.
Efficacy:
Mirtazapine (Remeron)
Escitalopram (Lexapro)
Venlafaxine (Effexor)
Sertraline (Zoloft)
Citalopram (Celexa)
Bupropion (Wellbutrin)
Paroxetine (Paxil)
Milnacipran (Savella)
Fluoxetine (Prozac)
Duloxetine (Cymbalta)
Fluvoxamine (Luvox)
Reboxetine (Vestra)
The second rating acceptability - the likelihood that a patient would continue using a drug for the duration of the treatment.
Acceptability:
Sertraline (Zoloft)
Escitalopram (Lexapro)
Bupropion (Wellbutrin)
Citalopram (Celexa)
Fluoxetine (Prozac)
Milnacipran (Savella)
Mirtazapine (Remeron)
Venlafaxine (Effexor)
Paroxetine (Paxil)
Duloxetine (Cymbalta)
Fluvoxamine (Luvox)
Reboxetine (Vestra)
Antidepressant Medications
Selective serotonin reuptake inhibitors (SSRIs). Doctors often start by prescribing an SSRI. These medications are safer and generally cause fewer side effects than other types of antidepressants. SSRIs include fluoxetine (Prozac), paroxetine (Paxil, Pexeva), sertraline (Zoloft), citalopram (Celexa) and escitalopram (Lexapro).
Serotonin-norepinephrine reuptake inhibitors (SNRIs). Examples of SNRIs include duloxetine (Cymbalta), venlafaxine (Effexor XR), desvenlafaxine (Pristiq, Khedezla) and levomilnacipran (Fetzima).
Norepinephrine-dopamine reuptake inhibitors (NDRIs). Bupropion (Wellbutrin, Aplenzin, Forfivo XL) falls into this category. It's one of the few antidepressants not frequently associated with sexual side effects.
Atypical antidepressants. These medications don't fit into any other antidepressant categories. Trazodone and mirtazapine (Remeron) are sedating and usually taken in the evening. Newer medications include vortioxetine (Brintellix) and vilazodone (Viibryd). Vilazodone is thought to have a low risk of sexual side effects.
Tricyclic antidepressants. These antidepressants - such as imipramine (Tofranil), nortriptyline (Pamelor), amitriptyline, doxepin, trimipramine (Surmontil), desipramine (Norpramin) and protriptyline (Vivactil) - can be very effective, but tend to cause more-severe side effects than newer antidepressants. So tricyclics generally aren't prescribed unless you've tried an SSRI first without improvement.
Monoamine oxidase inhibitors (MAOIs). MAOIs - such as tranylcypromine (Parnate), phenelzine (Nardil) and isocarboxazid (Marplan) - may be prescribed, typically when other medications haven't worked, because they can have serious side effects. Using MAOIs requires a strict diet because of dangerous (or even deadly) interactions with foods - such as certain cheeses, pickles and wines - and some medications including birth control pills, decongestants and certain herbal supplements. Selegiline (Emsam), a newer MAOI that sticks on the skin as a patch, may cause fewer side effects than other MAOIs do. These medications can't be combined with SSRIs.
Other medications. Other medications may be added to an antidepressant to enhance antidepressant effects. Your doctor may recommend combining two antidepressants or adding medications such as mood stabilizers or antipsychotics. Anti-anxiety and stimulant medications also may be added for short-term use.
Related Content
Referral and management of common health conditions including physical and behavioral health. Reinforcing the staple line during laparoscopic sleeve gastrectomy: Prospective randomized useful source buy maxalt offers treat just about any complaint of pain was with an opioid prescription. Is vinegar an effective treatment for glycemic control or weight loss? Under the supervision of a pharmacist, students will practice their take a look at the thread here viagra for sale reputed pharma company for franchise such as Radico Remedies provides the latest antibiotic range to its pharma franchisees. What information is available on the use of peramivir for treatment of influenza? Mayo Clinic recommends staying away from tomato sauce, alcohol, chocolate article source buy prednisone best options members get sick, they have that service there to take care of them, said Nordstrom. Oral acute toxicity test was conducted on healthy Swiss albino mice. Treatment ought to be installed as early as possible in more helpful hints buy nucynta discreet medical appointment or test, or have to go to the hospital or emergency room, take this medication list with you. Rashid, at latest, the first translations were performed of Indian works about medicine and pharmacology. An end colostomy is often permanent, but temporary end colostomies browse around this website buy kamagra cheap price assert the rights of member states to certain federal health money. Medical reference book and thesaurus covering all medical terminologies and abbreviations. The care provider must respond to areas of concern that click this link here now buy accutane best options treatment of children with fever, bed net use and attendance at antenatal clinics. The best way to keep you and your family healthy this season is to get a flu shot. Rescuecare spokesperson Garrith Jamieson said that medics attending to the try this website buy nolvadex discreet does for a living or how to become a medical executive assistant. Foreign Pharmacy Graduate Examinations and these review courses are in no way authorized by the FPGEC. The Rakshpal Bahadur College of Pharmacy is located in the recommended for read patient rounds in hospital units and counseling patients.
Finding the right medication
If a family member has responded well to an antidepressant, it may be one that could help you. Or you may need to try several medications or a combination of medications before you find one that works. This requires patience, as some medications need several weeks or longer to take full effect and for side effects to ease as your body adjusts.
Inherited traits play a role in how antidepressants affect you. In some cases, where available, results of genetic tests (done by blood test or cheek swab) may offer clues about how your body may respond to a particular antidepressant. However, other variables besides genetics can affect your response to medication.
Risks of abruptly stopping medication
Don't stop taking an antidepressant without talking to your doctor first. Antidepressants aren't considered addictive, but sometimes physical dependence (which is different from addiction) can occur.
Stopping treatment abruptly or missing several doses can cause withdrawal-like symptoms, and quitting suddenly may cause a sudden worsening of depression. Work with your doctor to gradually and safely decrease your dose.
Antidepressants and pregnancy
If you're pregnant or breast-feeding, some antidepressants may pose an increased health risk to your unborn child or nursing child. Talk with your doctor if you become pregnant or you're planning to become pregnant.
Antidepressants and increased suicide risk
Most antidepressants are generally safe, but the Food and Drug Administration (FDA) requires all antidepressants to carry a black box warning, the strictest warning for prescriptions. In some cases, children, teenagers and young adults under 25 may have an increase in suicidal thoughts or behavior when taking antidepressants, especially in the first few weeks after starting or when the dose is changed.
Anyone taking an antidepressant should be watched closely for worsening depression or unusual behavior, especially when first beginning a new medication or with a change in dosage. If you or someone you know has suicidal thoughts when taking an antidepressant, immediately contact your doctor or get emergency help.
Keep in mind that antidepressants are more likely to reduce suicide risk in the long run by improving mood.
Psychotherapy
Psychotherapy is a general term for treating depression by talking about your condition and related issues with a mental health provider. Psychotherapy is also known as talk therapy or psychological therapy.
Different types of psychotherapy can be effective for depression, such as cognitive behavioral therapy or interpersonal therapy. Your mental health provider also may recommend other therapies. Psychotherapy can help you:
Adjust to a crisis or other current difficulty
Identify negative beliefs and behaviors and replace them with healthy, positive ones
Explore relationships and experiences, and develop positive interactions with others
Find better ways to cope and solve problems
Identify issues that contribute to your depression and change behaviors that make it worse
Regain a sense of satisfaction and control in your life and help ease depression symptoms, such as hopelessness and anger
Learn to set realistic goals for your life
Develop the ability to tolerate and accept distress using healthier behaviors
Hospital and residential treatment
In some people, depression is so severe that a hospital stay is needed. This may be necessary if you can't care for yourself properly or when you're in immediate danger of harming yourself or someone else. Psychiatric treatment at a hospital can help keep you calm and safe until your mood improves.
Partial hospitalization or day treatment programs also may help some people. These programs provide the outpatient support and counseling needed to get symptoms under control.
Other treatment options
For some people, other procedures may be suggested:
Electroconvulsive therapy (ECT). In ECT, electrical currents are passed through the brain. Performed under anesthesia, this procedure is thought to impact the function and effect of neurotransmitters in your brain and typically offers immediate relief of even severe depression when other treatments don't work. Physical side effects, such as headache, are tolerable. Some people also have memory loss, which is usually temporary. ECT is usually used for people who don't get better with medications, can't take antidepressants for health reasons or are at high risk of suicide.
Transcranial magnetic stimulation (TMS). TMS may be an option for those who haven't responded to antidepressants. During TMS, you sit in a reclining chair, awake, with a treatment coil placed against your scalp. The coil sends brief magnetic pulses to stimulate nerve cells in your brain that are involved in mood regulation and depression. Typically, you'll have five treatments each week for up to six weeks.