Effexor (Venlafaxine)
Effexor is a bicyclic antidepressant that is not chemically related to tricyclic antidepressants or to other commonly prescribed antidepressants. This drug is often used to treat depression that has not responded to other medications. Effexor works by blocking transporters for the chemicals serotonin and norepinephrine, increasing the amounts of serotonin and norepinephrine in the brain. Effexor also slightly increases the amount of dopamine in the brain.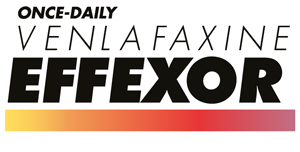 Why is this drug prescribed?
Effexor is FDA-approved for the treatment of major depressive disorder in adults. The extended-release formulation is approved for the treatment of generalized anxiety disorder, panic disorder, and social phobia in adults.
This drug is also occasionally used to treat OCD (obsessive-compulsive disorder) or Fibromyalgia (FMS).
How much of this drug is typically used?
Tablets: 25 mg, 37.5 mg, 50 mg, 75 mg, 100 mg
Extended release capsules: 37.5 mg, 75 mg, 150 mg
Buy Effexor
Reasons to buy Effexor:
Effexor (venlafaxine) effectively treats depression, anxiety, and panic disorder.
Effexor (venlafaxine) causes more sleepiness than other antidepressants, so it's beneficial for people who have trouble sleeping.
Effexor (venlafaxine) might work when other antidepressants haven't worked since it affects two chemicals in the brain that impact your mood.
Effexor (venlafaxine) has several uses, which may be good for people with multiple conditions.
Effexor (venlafaxine) is available in generic, which is cheaper.
Warnings and Precautions
Effexor is not known to be addictive, but withdrawal symptoms may be present when this drug is discontinued in patients who have taken it for a long time. Dosage should be gradually tapered to avoid withdrawal.
It is recommended that patients receiving Effexor regularly monitor blood pressure. Patients whose blood pressure increases while taking Effexor should discontinue or reduce the dosage.
Effexor may cause drowsiness, dizziness or blurred vision. Patients using Effexor should not drive, use machinery, until the effects of Effexor on that patient are known. Alcohol may increase dizziness or drowsiness.
For Nursing Mothers: It is not known whether Effexor is excreted in breast milk, but as with all drugs, caution should be used.
The safety and effectiveness in children and adolescents under 18 are not known - Effexor should not be used in children for either OCD or depression.
Contraindications
Dosage of Effexor will probably have to be altered in patients with high blood pressure, heart, liver, or kidney disease.
Adverse Reactions
Effexor may cause the following reactions:
Headache
Weight loss
Nausea
Dizziness
Sleepiness
Abnormal ejaculation
Anorexia
Constipation
Nervousness or anxiety
Excessive sweating
Dry mouth
Blurry vision
Diarrhea
Insomnia
Hypomania
Increased blood pressure
Seizures
Weakness
Difficulty breathing
Loss of appetite
Tremor
Vision changes
Sexual dysfunction
Rarely:
Low blood sodium levels
Abnormal bleeding
Hepatitis
Neuroleptic malignant syndrome
Serotonin syndrome
Worsening depression
Hypomania/mania
Suicidal thoughts
Interactions with Drugs and Other Substances
Drugs or substances that may interact with Effexor are:
Alcohol
Cimetidine
Medications for weight control or appetite
MAO inhibitors-phenelzine (Nardil), tranylcypromine (Parnate), isocarboxazid (Marplan) - serious, even fatal, interactions can occur when these medications are taken with Effexor.
Other medicines for mental depression, mania, or anxiety
Medicines for heart rhythm or blood pressure
St. John's wort, Hypericum perforatum
Sumatriptan
Research Studies and Use in Child Psychiatry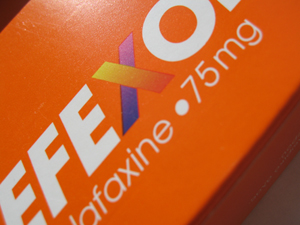 A recent study reports some efficacy of venlafaxine in the treatment of adolescent depression, but more side effects compared to an SSRI. Another study suggests that long-acting venlafaxine is useful in the treatment of children and adolescents with social anxiety disorder. A further small study suggests that venlafaxine might be useful in the treatment of children and adolescents with ADHD. The medication carries a special warning, as with other antidepressants, of increased suicidal thinking and behavior in children, adolescents and young adults.